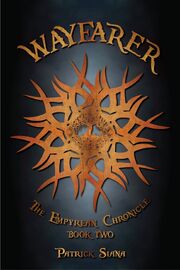 Wayfarer is the second novel in The Empyrean Chronicle series by Patrick Siana.
The publisher's description reads:
The only clues to his disappearance are a half-eaten meal on the stove and a doorway left ajar at his home in Knoll Creek. At least those are the only clues Danica finds until she reaches Lucerne Palace.

With the help of the Lucerne Sentinels Danica discovers that there is a mysterious rift in the ether – a tear in the very fabric of space and time. Danica knows that Elias's disappearance is somehow connected, but as the days pass an answer eludes her, with the unraveling of the ether worsening at every turn. For reasons she can't articulate, Danica has a sinking feeling that time is against her, and if she can't find a solution not only her family but all Galacia and even magic itself will fall to ruin.

Meanwhile, Elias struggles to find a way back home. His only hope hinges on a forbidden, cataclysmic new Arcanum that will demand everything of him, and the price of failure - nothing less than oblivion.
External Links
Edit