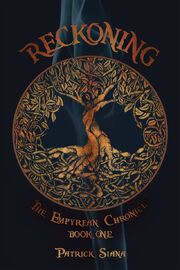 Reckoning is the first novel in The Empyrean Chronicle series by Patrick Siana.
The publisher's description reads:
It all begins when Viscount Roderick Macallister makes an unannounced visit to Elias Duana's homestead with an offer to purchase his ancestral land. Elias turns Macallister away, but little does he know that his refusal to sell will thrust himself into the midst of a centuries-long feud between two royal dynasties and reveal his own family's mysterious past.

On a routine outing Elias is ambushed by scimitar-wielding, magic-slinging highwaymen. Elias escapes with his life, though he is wounded. It doesn't take much imagination on Elias's part to conclude that the men who attacked him were no mere bandits. Despite the day-old arrow wound in his shoulder Elias embarks on a mission to protect his land and family and bring his would-be killers to justice.

Elias knows that his father was once a Marshal, an arbiter of the queen's justice, though Padraic Duana was always tight-lipped about his past in service to the queen. What Elias doesn't know is that his father carried not only a magic sword, but also the secrets of his nation. Secrets that an arcane sect named the Scarlet Hand is more than a little interested in. Secrets involving a long-forgotten curse and a banished House shrouded in dark magic, and in mystery.

As Elias stumbles upon one clue after another, however, the homesteader turned rogue lawman discovers that far more than his small corner of the world hangs on the precipice of ruin, for the Scarlet Hand has designs on the throne itself. With the Hand fast on his trail, Elias races toward Peidra, the capital of Galacia, to warn the queen of the imminent threat to the crown, knowing full well that the safety of both his family and all the realm is in his hands.

Still, the rogue Marshal finds help in unexpected places as he joins forces with a razor-tongued princess that is anything but proper, his medical-school-dropout sister, an aged spy turned country doctor, and a horse named Comet. Together, this unlikely band of heroes is all that stands between the fist of the Scarlet Hand and the destruction of the realm, if not all the nations of Agia.
Alternate Cover
Edit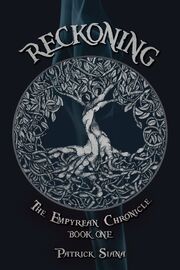 Shortly after the publication of the second novel, Wayfarer, the cover design for Reckoning was updated to incorporate similar color schemes. The original cover design is pictured here.
External Links
Edit